Certified Forest Bathing Guide Training
"People say walking on water is a miracle, but to me walking peacefully on earth is the real miracle"

Thic Nhat Hahn
Covid-19 Information

The institute acknowledges and respects the recommendations by the Swedish National Institute of Public Health, for preventing and avoiding the spread of Coronavirus. We also respect and follow the decisions made by the venues with whom we cooperate.
The scheduled trainings for spring / summer 2020 were moved to autumn 2020. We carried them out by spending most of our time outdoors, engaging several leaders who helped us with preventive strategies and by making special agreements with our venues for individual rooms as far as possible. We provided indoor settings close to nature and with airy premises, offered rubbing alcohol, mouth guards when needed and made sure to maintain physical distance.
Our experience at present is that group training is possible when we offer good conditions for following national guidelines and take personal respnsibility, caring about the current situation. With this positive experience, new educations are therefore planned for 2021. A warm welcome!
Forest Bathing Guide Trainings 2021
Most welcome to a nature immersion retreat and professional guide training in Forest Bathing and Forest Therapy.
The training is suitable for you who wish to combine a personal journey of nature immersion and to develop an expertise in the Art of Guiding others. And to do so according to a scientifically supported guiding method, a special skills programme and a theoretical and experience based learning.
In 2021, two Certified Forest Bathing Guide trainings programs are offered in Sweden, with different set ups: a "traditional" and one with a new outline.
The "traditional" Forest Bathing Guide training
This training programme follows our traditional approach: 1 week of intensive training retreat and nature immersion, with theory, methodology and development of practical skills. The week is followed by a 3 months, mentored and supervised practice period and a certification process.
The "new" Forest Bathing Guide training
This training offers the programme during 2 extended weekends (altogether the same amount of days as the one week intensive), with one section of theory and methodology included and the other offered through online teaching. After the two weekends and the online teaching, follows the usual 3-months mentored and supervised practise period and certification process.
Course description
Both training training programmes provide you with a a broad theoretical and methodological foundation, in combination with an extensive, practical and experience-based learning in nature. It is followed by a 3 months long practise period, supervised by your personal mentor and managed through online communication. The training and practise ends with a certification process.
Every guide needs to aquire a course in First Aid / CPR (cardiovascular rescue) as a requirement for certification. This course is booked and payed by each participant and is not included in the training fee.
For those who plan to guide in nature areas further away from community-based health care institutions, a First Aid training, adapted to wilderness, is strongly recommended.
Training at Mundekulla, Småland
May 21-28, 2021
Training week : May 21-28, 2021 followed by a 3 months supervised practise period
Time: Start 16.30 (arrival 15.30-16.00), End with lunch May 28 at 13.30
Location: Mundekulla Eco Retreat Center
Food and Accomodation: is booked and payed for separately. Please fill in the form for food and lodging directly to Mundekulla Eco Retreat Center by clicking on this link: MUNDEKULLA KOST&LOGI
Training Fee: 20 800 kr+VAT
Food and Accomodation: please see the different options available for you at Mundekulla registration
For travel instructions, please follow this link: Travel Mundekulla
Training in Stockholm & online:
July 29 juli – August 1 and
August 19 – 22 augusti
Weekend and Online based Certified Forest Bathing Guide training
In this training programme you dive into the training during two extended weekends and certain sections of the theory and methodology offered through online teaching. This is followed by a 3-months mentored and supervised practise period and certification process.
Location: Rural retreat center, near Stockholm (more info to come)
Training Retreat Dates 1: July 29 – August 1, 2021
Training Retreat Dates 2: 19-22 August, 2021
Time: Retreat start: 3 PM. Retreat end: 2 PM
Online lectures: 1.5 hours x 2 times / week for 2 weeks
Practise period + supervision: 3 months: 30 August – 30 November, including certification process.
Price: SEK 20,800 Skr + VAT
Board and Accommodation: will be added and booked and paid for separately – more info to come
Manual
Training manual and an practise period manual are provided on the training to support you throughout the process
Trainers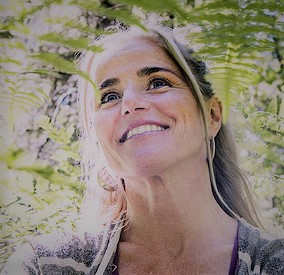 Petra Ellora Cau Wetterholm is the founder and operations manager of the Scandinavian Nature and Forest Therapy Institute and "Shinrin-Yoku Sweden". Petra works as a licenced Psychologist, as a Certified Nature and Forest Therapy Guide (by ANFT), a trainer and supervisor. She has extensive training as a mindfulness facilitator, in MBSR and MBCT according to the Center for Mindfulness, USA. In her work she focuses on the development of Forest Bathing and Forest Therapy as a method and for a scientific evaluation and integration into health care. What has greatly influenced Petra's work is the nature connection that has followed her through life, the background in the performing and visual arts and the many years dedicated to recidency training at a Zen Buddhist temple. As a psychologist, she has chosen to focus specifically in stress-related disorders, neuropsychiatry, mindfulness-based interventions and method development. Petra has taught nationally and internationally and presented her work at a number of events and conferences, most recently at the World Conference for "Forests for Public Health" in Athens, 2019.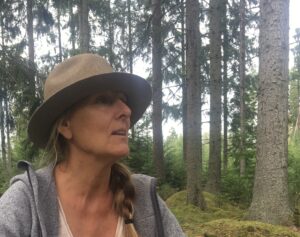 Marika Liebst works as a forest bathing- and forest therapy guide, certified by the Scandinavian Nature & Forest Therapy Institute, and as a mindfulness facilitator. She is based in Gothenburg, Kungälv and Stenungsund and in the surrounding area. There she divides her nature time between the sea and the wide horizon, the forest and the lakes. Marika has run her own business since the early 90s. Nature has always been important as a base and inspiration. When experiencing personal grief and exhaustion, she found the connection with nature to be her path to recovery and an understanding of nature's healing ability. An experience and insight that has continued and deepened through the trainings as a guide. Marika offers forest bathing and forest therapy walks for individuals and groups suffering from stress, fatigue syndrome and grief. Her focus as a guide is to invite the participants to discover the ease and non demanding ways to recovery, healing and nature connectedness. And that balance, in both nature and our own life, is possible by a sustainable relationship between people and earth. We simply need to find our way back home.
Registration
Please note that you register in 4 steps:
1) Book training
Book your training by sending an email to contact@shinrin-yokusweden.se
2) Fill in the application form that you receive in an e-mail after you have booked your training
3) Pay the registration fee to: Shinrin-Yoku Sweden, Plusgiro: 89 49 60-4
IBAN SE60 9500 0099 6018 0894 9604
BIC/SWIFT NDEASESS
Registration fee:
Certified Forest Bath Guide: SEK 5,000
The remaining training fee is paid no later than 60 days before the training starts, no later than March 1, 2020. If no payment is made, and in the case of a eaiting list, your spot may need to be opened for other participants.
4) Make your reservations for food and accomodation
Cancellation Policy
Cancellation later than 60 days before training starts, no refund is offered.
In the case of serious health problems, reimbursement is offered at 50% with a sick leave certificate.
The application and payment of registration fee, reserves a spot at the training. Cancellation within one week of paid registration, offers a full refund of the registration fee with a deduction of SEK 500 for administrative costs. Cancellations later than one week after registration and before 60 days before training, offer a 50% refund with deductions of SEK 500 for administrative costs.
Force Majeur – If something unforeseen happens outside human control, something that is impossible to predict or regulations issued by the authorities that require the course to be cancelled and moved, the agreed agreement for booking and cancellation between the Scandinavian Nature and Forest Therapy Institute (SNFTI), the participants are offered, in this case, at no extra cost, another date when the training can take place instead. SNFTI and Shinrin-Yoku Sweden have no possibility to reimburse any travel costs for participants in the event of cancellation course for the above reason.